Fundraising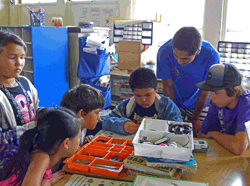 From summer classes and workshops to the elite FIRST Robotics Competitions, all STEM activities require resources, and all attract and can benefit students of very modest means. It's our goal at KRA to insure that everyone who wants to play, or to travel with a team, can do that.
To this end, we pursue grants and corporate sponsorship, organize major fundraisers, and create opportunities for students to do their own fundraising to meet their travel costs.
Grants and Corporate Sponsorship
Here I will talk about individual grants
Major fundraisers
Thunder Chicken Coffee, a rich blend of Hawaiian and South American beans, was developed specifically for the Kaua`ibots by Lappert's of Hawaii. Beans, ground, and brewed coffee, as well as our stylish Thunder Chicken mugs, are sold and served by many sponsoring businesses here on Kaua`i. The team is deeply grateful for this widespread community support. You can also buy Thunder Chicken here or through team members.
Here I will talk about the coffee program, imu, Matson cleanups, garage sales, and...what else?
Fundraising Opportunities for Students
Cookie sales, the united way walkathon, what else?