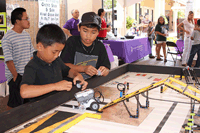 The Kaua`i Robotics Alliance (KRA) is a 501(c)(3) charitable organization, which promotes Science, Technology, Engineering and Math (STEM) education through all robotics-related activities for all ages of students on the island of Kauai.
Our island, state, country, and world need people skilled in STEM. At the same time, our young people need useful skills and rewarding jobs – but it's still very hard for them to find out that those fields even exist, let alone what it's like to work in them. (When was the last time you saw a chemist or a civil engineer, a radar technician or a roboticist on TV?)
Because Kauai is a neighbor island, it's particularly important, and also especially difficult, to provide our young people with meaningful opportunities to discover and explore these fields. This means that here, even more than in most places, robotics is a great educational investment.
Our seven FIRST Tech Challenge teams (four returning and three 'rookie' teams) had a great season last fall, culminating with two tournaments on Kauai in November, and five teams traveling to Oahu for the State Championships, where two Kauai teams - including a first-year team of middle-schoolers from the west side - played in the final elimination bracket, and one Kauai team won the prestigious 'Think' award.
The KauaiBots all-island high-school FIRST team is now hard at work designing, building, programming and testing their robot for two upcoming competitions - the L.A. North Regional in Thousand Oaks, California, in late February, and the Hawaii Regional in Honolulu, in late March. They have designed the entire robot using CAD for the first time, and are on schedule and within budget to have the 'bot completed in time to practice and fine-tune before the first competition. And, they're also hard at work trying to raise the funds necessary to pay for their travel expenses.
For more information, e-mail us at info@kauairoboticsalliance.org.
................................................................
KRA is a 100% volunteer organization; ALL donations are used directly to pay for our programs, including tournament entry fees, purchase of robot parts, supplies and tools, expenses of conducting demonstrations and competitions on Kaua'i, teacher training programs, and student travel to competitions on Oahu and the mainland. Please support us in the following ways:
- Buy the Kaua'iBots' 'Thunder Chicken' coffee (delicious Hawai'i coffee blended specially for us by Lappert's of Hawaii; all profits from Thunder Chicken branded products go directly to the team):
- Donate via PayPal; see "Donate" button at top right of this page
- Send a check to KRA at 4334 Rice Street, Suite 203, Lihue, Hawaii 96766
- Support Kauai Robotics Alliance through "Amazon Smile" (a small portion of all of your purchases at Amazon will come back to us as a donation, at no cost to you) (go to "amazonsmile.com" for more information)
- Contact us for more ways to donate OR if you would like to help out as a volunteer, mentor or team leader!