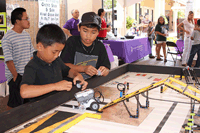 Sign up for FREE, 2-day Robotics Teaching Workshop HERE!
This signup is for a FREE, 2-day teacher training workshop, taught by certified trainers visiting from FIRST Robotics headquarters. This is open to ALL teachers, and other interested individuals, from any island (you just have to get here, the hands-on workshop is FREE).
FIRST Certified Professional Development is an immersive learning experience that will help you acquire or strengthen your facilitation skills for project-based learning curriculum and 21st century skills such as creativity, problem solving, and teamwork in an active learning environment. Each course is led by a FIRST Certified Teacher Trainer and provides the necessary tools to bring FIRST programs to your classroom or as a structured afterschool program. Certificates for 14 CEU's are provided at the completion of training.
Over the two-day period (14 hours) you'll gain insight on how to achieve STEM learning objectives using learning tools and resources provided by FIRST, as well as the confidence and tools to:
* Facilitate computational thinking, collaboration, and problem-solving skills with your students
* Run FIRST teams using project-based learning pedagogy
* Build a robot and program using age-appropriate technology
* Become knowledgeable in the engineering design process
This training session uses the FIRST Tech Challenge materials, and is geared toward teaching middle-school and high-school age students. More information about the FIRST Tech Challenge program may be found HERE.
The class will be held on September 20th and 21st (Friday and Saturday), from 9:00 a.m. to 5:00 p.m. each day, at the Kauai Robotics Alliance Workshop in the Kukui Grove Shopping Center, in Lihue (Kauai). This is open to any TEACHERS, MENTORS, PARENTS, YOUTH GROUP LEADERS, or anyone else interested in learning how to help youth learn about robotics in a fun, challenging, hands-on manner. IF the workshop fills up, preference will be given to middle-school and high-school teachers, and others who intend to start a FTC team within the next two years.
For more information, please send an e-mail to info@kauairoboticsalliance.org.
................................................................
The Kaua`i Robotics Alliance (KRA) exists to raise funds for and promote Science, Technology, Engineering and Math (STEM) education through all robotics-related activities, organized by any school or group, for all ages of students.
Our island, state, country, and world need people skilled in STEM. At the same time, our young people need useful skills and rewarding jobs – but it's still very hard for them to find out that those fields even exist, let alone what it's like to work in them. (When was the last time you saw a chemist or a civil engineer, a radar technician or a roboticist on TV?)
Because Kauai is a neighbor island, it's particularly important, and also especially difficult, to provide our young people with meaningful opportunities to discover and explore these fields. This means that here, even more than in most places, robotics is a great educational investment.