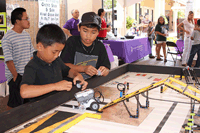 The Kaua`i Robotics Alliance (KRA) is a 501(c)(3) charitable organization, which promotes Science, Technology, Engineering and Math (STEM) education through all robotics-related activities for all ages of students on the island of Kauai.
Our island, state, country, and world need people skilled in STEM. At the same time, our young people need useful skills and rewarding jobs – but it's still very hard for them to find out that those fields even exist, let alone what it's like to work in them. (When was the last time you saw a chemist or a civil engineer, a radar technician or a roboticist on TV?)
Because Kauai is a neighbor island, it's particularly important, and also especially difficult, to provide our young people with meaningful opportunities to discover and explore these fields. This means that here, even more than in most places, robotics is a great educational investment.
Our FIRST Tech Challenge teams had a great season last year, with the St. Catherine's team finishing second in the State and earning an opportunity to attend the World Championships in Houston, Texas in April. We are looking forward to kicking off the 2022 season on September 10, 2022, when the new game will be announced. This year, we will once again (after two years of remote competitions, due to Covid-19) be hosting one or two LIVE tournaments on Kauai in November. Watch this space for further details!
The KauaiBots all-island high-school FIRST team had a great season last year, traveling to Oahu in late March to compete against and with teams from across the state, and Japan. Their robot was able to accurately score by shooting balls into a high goal, both autonomously (pre-programmed) and under driver control, using sophisticated sensors and vision-processing, and earn additional points by lifting itself onto a steel bar. Ending the qualification portion of the competition with the sixth-highest scoring statistics, the team advanced to the quarterfinals as part of an alliance with two Japanese teams. This year, after the kickoff in early January, they will again be hard at work solving this year's engineering challenge and preparing for the Hawaii competition, and if funding permits, a second competition on the mainland.
For more information, e-mail us at info@kauairoboticsalliance.org.
................................................................
KRA is a 100% volunteer organization; ALL donations are used directly to pay for our programs, including tournament entry fees, purchase of robot parts, supplies and tools, expenses of conducting demonstrations and competitions on Kaua'i, teacher training programs, and student travel to competitions on Oahu and the mainland. Please support us in the following ways:
- Buy the Kaua'iBots' 'Thunder Chicken' coffee (delicious Hawai'i coffee blended specially for us by Lappert's of Hawaii; all profits from Thunder Chicken branded products go directly to the team):
- Donate via PayPal; see "Donate" button at top right of this page
- Send a check to KRA at 4334 Rice Street, Suite 203, Lihue, Hawaii 96766
- Support Kauai Robotics Alliance through "Amazon Smile" (a small portion of all of your purchases at Amazon will come back to us as a donation, at no cost to you) (go to "amazonsmile.com" for more information)
- Contact us for more ways to donate OR if you would like to help out as a volunteer, mentor or team leader!