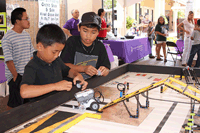 The Kaua`i Robotics Alliance (KRA) exists to raise funds for and promote Science, Technology, Engineering and Math (STEM) education through all robotics-related activities, organized by any school or group, for all ages of students.
Our island, state, country, and world need people skilled in STEM. At the same time, our young people need useful skills and rewarding jobs – but it's still very hard for them to find out that those fields even exist, let alone what it's like to work in them. (When was the last time you saw a chemist or a civil engineer, a radar technician or a roboticist on TV?)
Because Kauai is a neighbor island, it's particularly important, and also especially difficult, to provide our young people with meaningful opportunities to discover and explore these fields. This means that here, even more than in most places, robotics is a great educational investment.